QC1000 Powder Coating Spray Booth
Posted: in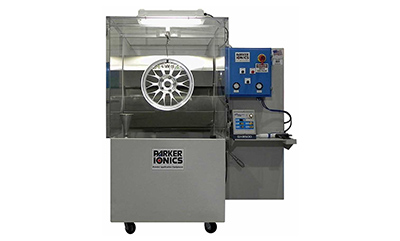 The Parker Ionics QC1000 powder coating spray booth is free-standing and portable. The spray booth is ideal for laboratories spraying test panels or job shops needing to coat small batches quickly for wide range of parts such as medical devices, automotive aftermarket parts, custom wheels, or refinishing of OE wheels. The setup, maintenance, and cleaning of the QC1000 powder coating spray booth is fast and efficient due to its size and mobility. And color changes are quick and easy also. A shelf adjacent to the part opening accommodates mounting of the powder coating control unit. Mounting hardware inside the spray enclosure is provided for the available "Cup Stand" injector/vibrator/cup assembly. Small or larger hoppers can be easily used as well. A steel tube frame provides a grounded hanging point on a bearing to easily rotate parts for ease of coating. Clear polypropylene sides and ceiling allow for a brighter spraying area with additional florescent lighting above.
The QC1000 mobile spray booth is designed to the standards of our larger Q-Flo™ production powder coating spray booths with a 1000 cfm rating, integral air filtration via cartridge filters, secondary safety filtration back-up and 10 gauge steel body. The robust construction creates minimal noise levels, creating a more pleasant work environment. Filter condition is monitored via minihelic differential pressure gauges. Manual, push-button activated pulse air provides for cleaning of accumulated powder coating material from the cartridge filter surface, extending the service life of the filters.
Power options are: 110, 220 or 3-phase 480 Volt. Total size is: 82″(H) X 72″(W) X 54″(D). Part enclosure size: 36"(H) x 40"(W) x 26"(D).